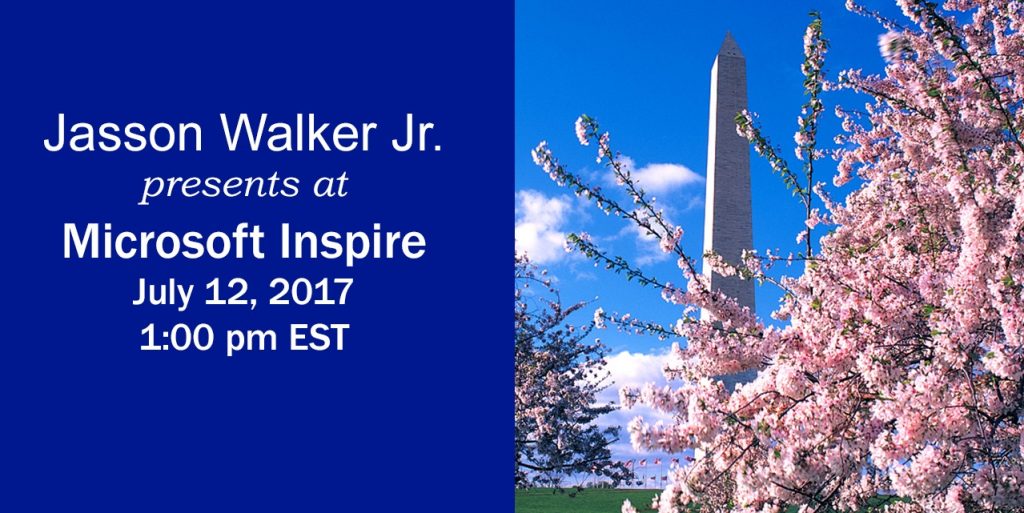 LARGO, MARYLAND, UNITED STATES, June 21, 2017 /EINPresswire.com/ — cFocus Software announces that our President & CEO, Jasson Walker, Jr. has agreed to present a session at the Microsoft Inspire 2017 conference.
Microsoft Inspire is a conference held annually by Microsoft Corporation for its partner community. At Inspire, partners learn about Microsoft's roadmap for the upcoming year, network and build connections, share best practices, experience the latest product innovations, and learn new skills and techniques. There are also keynote addresses from Microsoft executives, featured speakers, business-track specific offerings, and hundreds of sessions.
Mr. Walker has agreed to present a session at the conference this year. Entitled "The Fastest Path to the Cloud Through Partnership", the session presents ideas and tools in a workshop format for partners to create a cloud partnering plan. The details of the session are as follows:
Title: PWM07 The Fastest Path to the Cloud Through Partnership
Date: Wednesday, July 12, 2017
Time: 1 pm – 2 pm
Location: Walter E. Washington Convention Center, Washington, DC
You may register for Microsoft Inspire here: https://register.inspire.microsoft.com/
"I am humbled that Microsoft selected me to present a session at Microsoft Inspire!" said Mr. Walker. "I thank Chaitra Vedullapalli of Meylah Corporation for the opportunity to join her to make this presentation and launch our business venture together," he said.
More Information
About cFocus Software
Established in 2006, cFocus Software automates FedRAMP compliance and develops government chatbots for the Azure Government Cloud, Office 365, and SharePoint.
We are the exclusive vendors of ATO (Authority To Operate) as a Service™.
cFocus Software is Microsoft Gold certified, ISO 9001:2008 certified, and a certified participant in the Small Business Administration's 8(a) program.
Contact cFocus Software
Contact Form: https://cfocussoftware.com/contact-us/
Email: info@cfocussoftware.com
Website: https://cfocussoftware.com/
Phone: (301) 499-2650