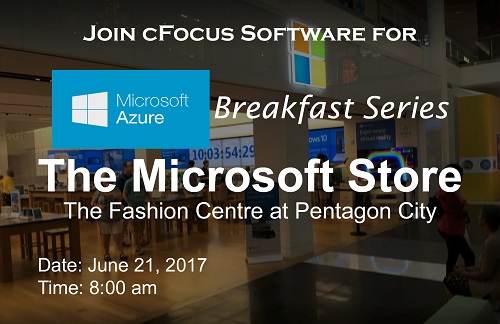 LARGO, MARYLAND, UNITED STATES, June 8, 2017 /EINPresswire.com/ — cFocus Software announces the June 2017 installment of our monthly event entitled 'Microsoft Azure Breakfast Series.'
In collaboration with The Microsoft Store Fashion Centre at Pentagon City, cFocus Software launched the Microsoft Azure Breakfast Series in May 2017 to provide an opportunity for networking and training over breakfast to individuals interested in Microsoft Azure.
The details of the June 2017 event are as follows:
Date & Time: June 21, 2017 8:00 am – 9:30 am
Location: The Microsoft Store at the Fashion Centre at Pentagon City
Event Title: How To Monitor On-Prem and Cloud Resources with Azure
Event Description: Did you know you can monitor both on-premises (both physical and virtual), Azure resources, and even AWS resources with Microsoft Azure? Join us this month as we explain and demonstrate Azure's robust continuous monitoring services.
Register here: https://msevents.microsoft.com/CUI/EventDetail.aspx?culture=en-US&EventID=1032909879
Come learn about Microsoft Azure and have breakfast with us!
 More Information
About cFocus Software
Established in 2006, cFocus Software automates FedRAMP compliance and develops government chatbots for the Azure Government Cloud, Office 365, and SharePoint.
We are the exclusive vendors of ATO (Authority To Operate) as a Service™.
cFocus Software is Microsoft Gold certified, ISO 9001:2008 certified, and a certified participant in the Small Business Administration's 8(a) program.
Contact cFocus Software
Contact Form: https://cfocussoftware.com/contact-us/
Email: info@cfocussoftware.com
Website: https://cfocussoftware.com/
Phone: (301) 499-2650