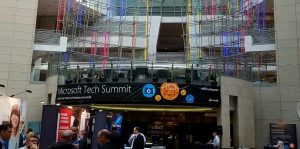 Nobody can deny that Microsoft continually goes to the limit to continually update and educate those who use their products. In their Azure Government, they've recently made this more apparent by uploading training videos in their Channel 9 video library. All of these videos come from the recent Microsoft Tech Summit held in D.C. back in early March.
If you couldn't attend this, you won't have to feel left out. Microsoft has numerous videos in their library now taken directly from the event.
With some of the biggest names in the developer universe, you have a complete educational course available without charge. It's worth every effort to take time to watch these videos.
Here's some of the best to watch first so you can start learning quickly about Azure Government if still in learning mode.
"What's New in the Azure Government Cloud?"
If you start with any video, watch this one first. While it runs over 42 minutes, it's going to give you a complete rundown of the latest features in Azure Government. It gives you abilities to find these new features quickly and use them to streamline the way you do things.
At the same time, this video looks to the future to give you a preview of what lies ahead. Basically, it's Microsoft giving you an idea of how they continually evolve Azure and software like Office 365 Government.
What makes this video stand out more is it compellingly differentiates Azure Government from other cloud software. Along with case examples, you'll see how it's used in real governmental situations.
"Building a Secure and Compliant App"
Developers in your governmental office are going to find a lot to love about using Azure Government when building apps. In this video, you'll find a full one-hour, 11 minute tutorial on how this works.
Thanks to FedRAMP and DoD compliance certifications built into Azure, you can build apps easily without fearing violations. At the heart of the video is teaching you how to write secure code for further protection. Azure AD, Key Vault, and App Service have highlights here for a thorough education on app building.
"Enhancing Government Services Through Advanced Analytics"
Using analytics in government fields is essential now with the world being more volatile. Fast response times can possibly mean life or death. With advanced analytics through Azure Government, it's possible to gain a 360-degree view of a situation without delays.
In this video, you'll get a one-hour, eight-minute tutorial showing you details on the Microsoft Cortana Intelligence Suite. It tells you how to take raw, unstructured data and turn it into something meaningful.
Most of the demonstration focuses on the White House's recent call-to-action on traffic fatalities. You'll see how data store in Azure can look more thoroughly into complex government problems and literally save lives.
"Connecting to the Azure and Office 365 Clouds"
Those of you wanting to learn more about Azure's cloud services, this tutorial is the best primer available. Mostly, it focuses on best practices to create a secure connection between Azure data centers and your on-site infrastructure.
Hosted by cloud strategist Scott Thompson, you'll see how to set up a virtual private network. Plus, you'll learn about Microsoft's ExpressRoute connection feature for cloud service through either Office 365 or Azure.
More Information
The word is, Microsoft is going to continue adding more tutorial videos like this in the future on their Channel 9 page. So keep tuning in if your government office just switched to Azure Government to streamline how you do cloud computing.
Keep reading us at cFocus Software Incorporated as we explore the latest developments and features in the government editions of Azure and Office 365.