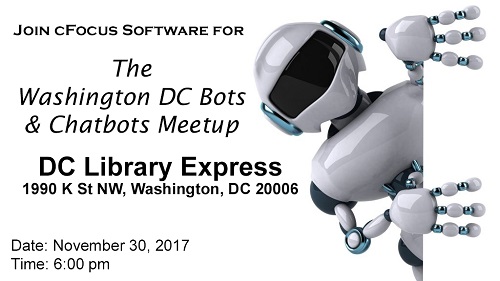 We held the second monthly Washington DC Bots & Chatbots Meetup on Thursday, November 30, 2017 at DC Library Express (1900 K St NW, Washington, DC). The topic of the meetup was 'How to Build Your Own Alexa'. It was such a great Meetup! We had about 20-25 people who were all engaged and asked a lot of questions.
We started by making introductions, and sharing our interests in chatbots. We then proceeded with the presentation.
My Presentation
The topic was about building your own Amazon Alexa, but I wanted to show a working chatbot first. So I showed everyone the chatbot (named Betty Bot) on the cfocussoftware.com website (which was created using the Microsoft Bot Framework):
We played with the chatbot, and I encouraged the group to ask questions to the chatbot to see how it will respond. Some of the more fun questions/comments we asked the chatbot included:
Who is your mother/father?
I want to create my own bot
I'm looking for more information about food
U sweet
Betty Bot performed quite well! She was able to comprehend and respond appropriately to pretty much all of the questions we threw at her. I reminded the group that Betty is able to respond appropriately to these unique questions because of extensive training.
We then proceeded to discuss the Amazon platform for creating chatbots called Amazon Lex. With this platform, we have access to the same services that are used in the Amazon Alexa personal assistant.
I explained the basic concepts of a bot built using Amazon Lex, and then we started to build a bot using Amazon Lex. Specifically, we talked about Intents, Utterances, Slots, Prompts, and Fulfillment. We then tested the bot to see how it works: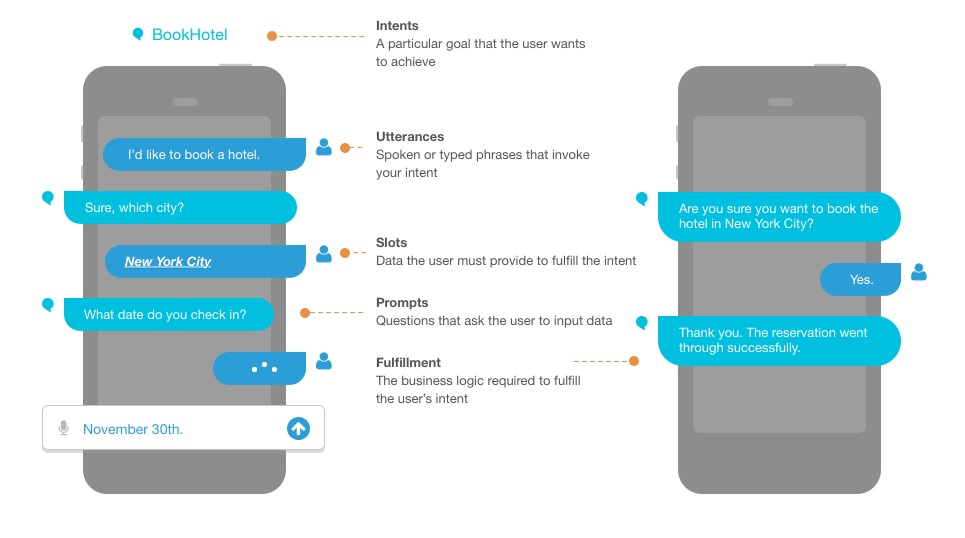 More Information
If you would like more information about the presentation or the services I discussed, here you go:
Sign Up For The Next Meetup
Let's do it again! The next Meetup will be held on December 14, 2017, and we will continue our discussion about Amazon Lex. RSVP today!