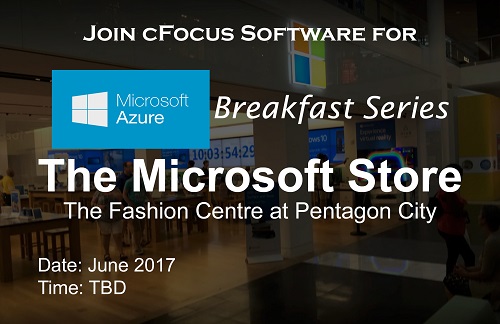 LARGO, Md. – May 5, 2017 – PRLog — cFocus Software announces that we have partnered with the Microsoft Store at Pentagon City, Virginia to launch a monthly event entitled 'Microsoft Azure Breakfast Series.'
The Microsoft Store Fashion Centre at Pentagon City is a vibrant retail store that sells all of the latest Microsoft products, and provides a wide range of training classes to Microsoft consumers. cFocus Software has partnered with the Store to offer a monthly networking and Microsoft Azure training event over breakfast.
The first breakfast was held on May 18, 2017.
"We are so excited to partner with The Microsoft Store!" said Mr. Jasson Walker, Jr., President & CEO of cFocus Software. "Through this partnership, we can offer an ideal environment for all to learn about Microsoft Azure," he said.
More Information
About cFocus Software
Established in 2006, cFocus Software automates FedRAMP compliance and develops government chatbots for the Azure Government Cloud, Office 365, and SharePoint.
We are the exclusive vendors of ATO (Authority To Operate) as a Service™.
cFocus Software is Microsoft Gold certified, ISO 9001:2008 certified, and a certified participant in the Small Business Administration's 8(a) program.
Contact cFocus Software
Contact Form: https://cfocussoftware.com/contact-us/
Email: info@cfocussoftware.com
Website: https://cfocussoftware.com/
Phone: (301) 499-2650