LARGO, MARYLAND, UNITED STATES, January 30th, 2018 /EINPresswire.com/ — cFocus Software announces the February Installment of the Washington DC Bots and Chatbots Meetup Founded September 29, 2017, the monthly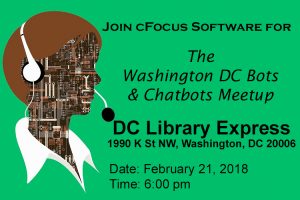 meetup is designed to engage developers, government agencies, businesses, and technology enthusiasts in discussions, demonstrations, and collaboration around the latest bot & chatbot-related trends and technology.
The February installment of the Washington DC Bots and Chatbots Meetup is scheduled for February 21st, 2018.
Date & Time: February 21st, 2018 6:00pm to 7:30pm
Location: DC Public Library Express; 1990 K Street Northwest, Washington, DC
Event Description: Join us for Part 2 of the Build a Call Center Alexa Bot series! Would you like to create a bot that can answer the phone resolve issues at a call center? Join us as we walk through the process of creating a voicebot with Amazon Lex (the same technology used in Alexa) and integrate our voicebot with an Amazon Connect call center system.
Please Register for the event here:
More Information
About cFocus Software
Established in 2006, cFocus Software automates FedRAMP compliance and develops government chatbots for the Azure Government Cloud, Office 365, and SharePoint.
We are the exclusive vendors of ATO (Authority To Operate) as a Service™.
cFocus Software is Microsoft Gold certified, ISO 9001:2008 certified, and a certified participant in the Small Business Administration's 8(a) program.
Contact cFocus Software
Contact Form: https://cfocussoftware.com/contact-us/
Email: info@cfocussoftware.com
Website: https://cfocussoftware.com/
Phone: (301) 499-2650