LARGO, MARYLAND, UNITED STATES, March 30th, 2018 /EINPresswire.com/ — cFocus Software announces that our President & CEO, Jasson Walker, Jr. was featured as a panelist on the AFCEA Army Signal Conference Small Business  Panel "Barriers to Small Business Opportunities."
The AFCEA Army Signal Conference brings together Army, Joint and Business leaders from across the Defense community to promote understanding between industry, government and academia. This year the theme for the event was " Unprecedented Opportunities."
The conference took place on March 8th 2018.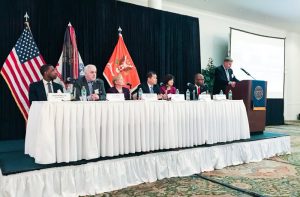 According to Ret. LTG. John R. Wood, Mr. Walker's leadership of cFocus Software Incorporated and experience in SharePoint,  Development,  Administration, Web, Help Desk, Information Assurance were important to the theme of the conference and brought value to all attendees.
"I am honored that AFCEA selected me to speak on the Barriers to Small Business Opportunities panel!" said Mr. Walker. "I thank John R. Wood of the United States Army for the opportunity to join my fellow panelists from the defense community to discuss some of the challenges on our paths to success," he said.
More Information
About cFocus Software
Established in 2006, cFocus Software automates FedRAMP compliance and develops government chatbots for the Azure Government Cloud, Office 365, and SharePoint.
We are the exclusive vendors of ATO (Authority To Operate) as a Service™.
cFocus Software is Microsoft Gold certified, ISO 9001:2008 certified, and a certified participant in the Small Business Administration's 8(a) program.
Contact cFocus Software
Contact Form: https://cfocussoftware.com/contact-us/
Email: info@cfocussoftware.com
Website: https://cfocussoftware.com/
Phone: (301) 499-2650