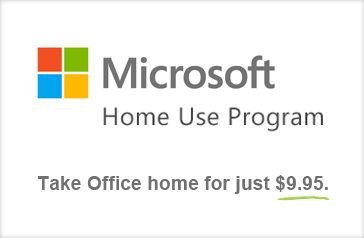 How would you like to upgrade to Microsoft Office 2016 on your personal devices for only 10 bucks?  You can do so through the Microsoft Home Use Program.
The Microsoft Home Use Program (HUP) is a benefit available to Microsoft customers with active Software Assurance coverage on their Office applications. Federal government employees who use the covered licenses at work are eligible to purchase these Office applications for just $9.95 to use on a personal device during the term of their employment.
To find out if you are eligible for this benefit, visit the Microsoft Home Use Program page, enter your work email, and click the Submit button: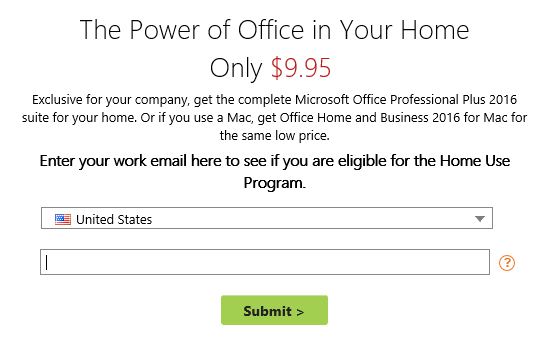 Some organizations require employees to use a program code to validate their HUP eligibility.  If you are prompted for a program code, please obtain this code from your employer.
If you are eligible, you will have the opportunity to purchase and download Microsoft Office 2016 for only $9.95!
But Wait, There Are More Discounts Available
Microsoft isn't the only tech company that wants the business of government employees. Here are some other companies that offer substantial discounts.
Apple Discounts for Federal Employees
The Military/Government Purchase Program is a benefit provided by Apple Inc. to current and retired employees, contractors and family members of government entities, and current, former, and retired members and family members of the US Military, National Guard and Reserve. The Program is intended for personal use. The discounts apply to a broad range of Apple products. Click here to learn more.
Dell Discounts for Federal Employees
Dell also offers discounts for Federal employees. Active military may have additional discounts available to them. Click here to learn more.
HP Discounts for Federal Employees
HP also has discounts available to some Federal Government employees. Click here to learn more.
A Couple More Helpful Links
Your quest to save money doesn't need to stop here. What company doesn't want the business of Federal government employees? Here's a few more resources to help you keep more of your money:
More Information
About cFocus Software
Established in 2006, cFocus Software automates FedRAMP compliance and develops government chatbots for the Azure Government Cloud, Office 365, and SharePoint.
We are the exclusive vendors of ATO (Authority To Operate) as a Service™.
cFocus Software is Microsoft Gold certified, ISO 9001:2008 certified, and a certified participant in the Small Business Administration's 8(a) program.
Contact cFocus Software
Contact Form: https://cfocussoftware.com/contact-us/
Email: info@cfocussoftware.com
Website: https://cfocussoftware.com/
Phone: (301) 499-2650