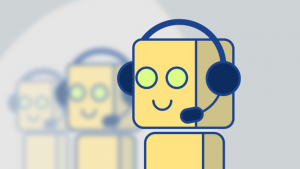 Can Chatbots Perform Government Services Better Than Humans?
Chatbots are excellent at performing well-defined, repetitive, and tedious tasks that require simple user input. In fact, chatbots are so good at these tasks, they can perform them better than humans can!
While chatbots will never completely replace the human element at government agencies, technology has reached a point where agencies can significantly enhance the customer experience (and also reduce cost) by using chatbots to fulfill certain services.
Here are 4 government services that chatbots can perform better than humans right now.
In summary, this article describes 4 government services that chatbots can perform better than humans, including:
– 311 Services
– Department of Motor Vehicles Services
– SharePoint Help
– Government Website & Facebook Help

311 Services
Most 311 calls are simple information requests or complaints. Rather than putting people on hold to wait for the next available 311 operator, local government agencies can use chatbots to immediately fulfill requests and respond to complaints.
Some examples of 311 information & complaint handling that a chatbot can provide include:
General information/hours/directions for public facilities: like parks, libraries, city hall, courts, etc.
Trash/Bulky item pick up information that is neighborhood-specific
Receiving pothole complaints
Business license/tax/incorporation information and forms
Police information/non-emergency requests
Local events & announcements
Department of Motor Vehicles Services
Wouldn't it be awesome if you didn't have to wait in line at your local DMV? Even better, what if you didn't have to go to the local DMV at all for certain vehicle and/or driver's license requests? By integrating cameras and facial recognition technology, chatbots can verify identity and issue official documents very effectively.  Some examples of services that DMV chatbots can perform include:
Renewing vehicle registration
Scheduling driver's license written exam/road test appointments
Renewing driver's license
Vehicle record requests
Traffic school management
SharePoint Help
Are you having problems finding pages and documents on your internal government SharePoint site? A chatbot can enhance the SharePoint experience by helping users find pages and documents–and chatbots can provide this help more quickly than a call to the support desk.
Chatbots can be integrated into SharePoint workflows that support internal government processes. Chatbots can also enable text message interaction with internal SharePoint document libraries and other resources so that you have easy access to SharePoint with your phone.
Government Website & Facebook Help
Websites and Facebook pages are all about engagement, and chatbots can significantly improve the engagement with your customers. Chatbots engage users by personalizing the user's experience. Government agencies with lots of visitors can enhance the customer experience of their website and Facebook pages by adding chatbots that provide users useful information.
Some examples of information that chatbots can drive engagement for include:
Tourist/lodging information
Finding specific government website pages
Facebook surveys
Searching for events
Free Chatbot Proof of Concept Offer
Would you like cFocus Software to create a FREE chatbot proof of concept for you? Click the link below!