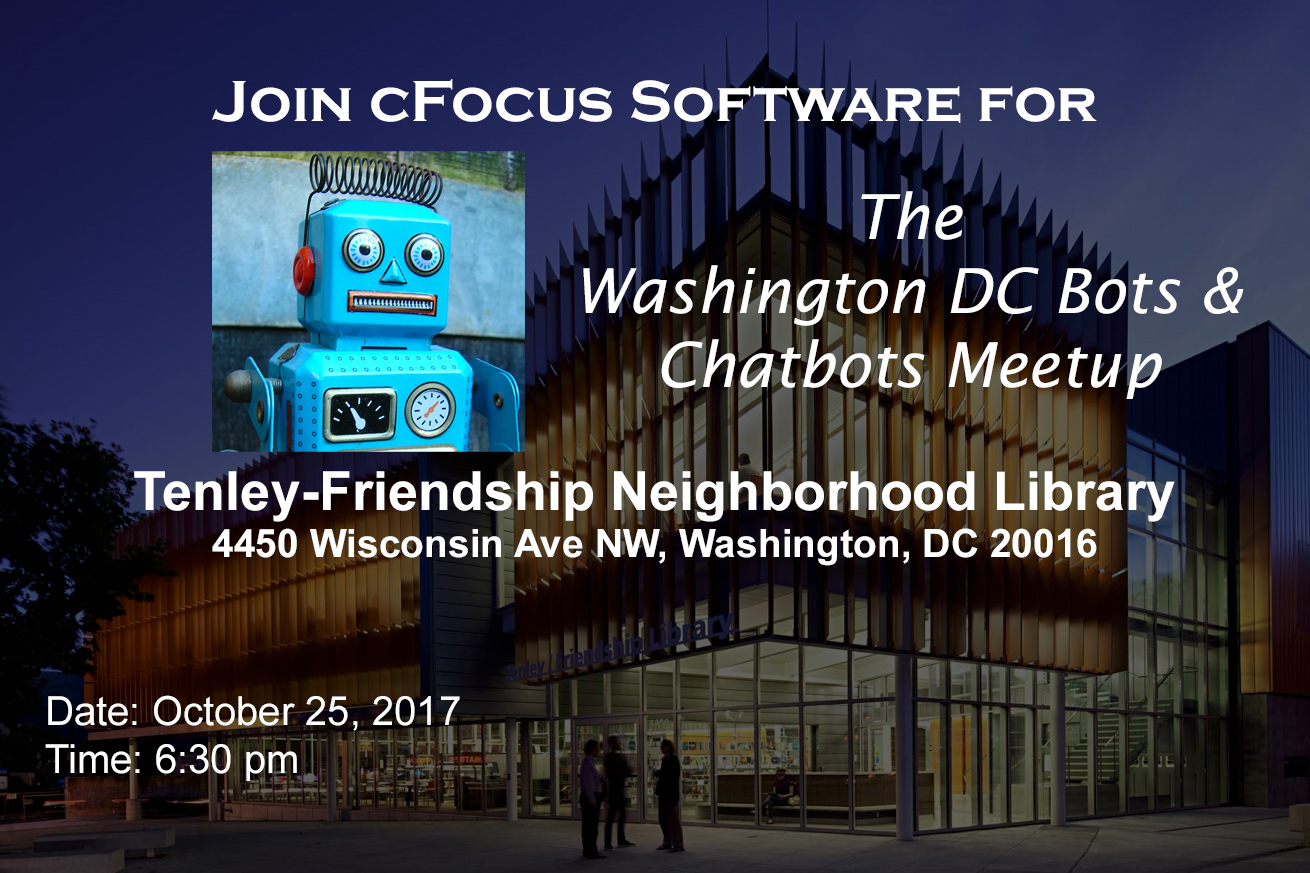 We held the inaugural event of The Washington DC Bots & Chatbots Meetup on Wednesday, October 25, 2017 at the Tenley-Friendship Neighborhood Library. It was great! We had a small group, but the group was really engaged and energetic.
We started by making introductions, and sharing our interests in chatbots. We then proceeded with the presentation.
My Presentation
The group wanted to have a detailed discussion about the Microsoft Bot Framework. So, I delivered the 'Let's Talk About Conversation Design' PowerPoint presentation, created by Vishwac Sena Kannan, Senior Program Manager @ Microsoft. Mr. Kannan delivered this same presentation at Microsoft Ignite 2017 last month.
During the presentation, the group had a lot of questions about tools and services that integrate with the Microsoft Bot Framework, so I demonstrated services such as:  QnAMaker.ai, and LUIS.ai. I also did a demonstration of the Microsoft Intelligent Kiosk, which shows off Microsoft Cognitive Services.
More Information
If you would like more information about the presentation or the services I discussed, here you go:
You can find more details about the 'Let's talk about Conversation Design' presentation on the Microsoft Ignite 2017 website here. I also saved a copy of the presentation to my website that you can download here.
Here are the links for QnAMaker.ai, LUIS.ai.
Here is  link for the Microsoft Intelligent Kiosk.  In order to use this, you will need to create a Microsoft Cognitive Services account and obtain API keys for the Face API, Emotion API, Computer Vision API, and Text Analytics.
Look Out For The Next Meetup!
Let's do it again! I will schedule the next Meetup soon, and I hope to see all of you there!