Latest Update (May 20, 2017)
Looks like the WannaCry threat has been thwarted!
According to USAToday.com the WannaCry ransomware attack was disabled over the weekend.  Please see the full story here: https://www.usatoday.com/story/tech/news/2017/05/13/22-year-old-wannacry-ransomware-malwaretech-analyst-stopped/101637152/.
What is WannaCry Ransomware?
If you haven't heard yet, there's a brand new ransomware threat that is spreading very rapidly. It's called WannaCry (aka WCry, WannaCry, WanaCrypt0r, WannaCrypt, or Wana Decrypt0r), and according to Wikipedia, "230,000 attacks were detected from 150 differents countries."  See the infection map below (the blue dots represent locations that have been infected):

WannaCry encrypts your data, threatens to destroy your data, and demands a ransom of $300 in Bitcoin in decrypt and return all of your data. If you fall victim to this ransomware, you will be presented with the following screen: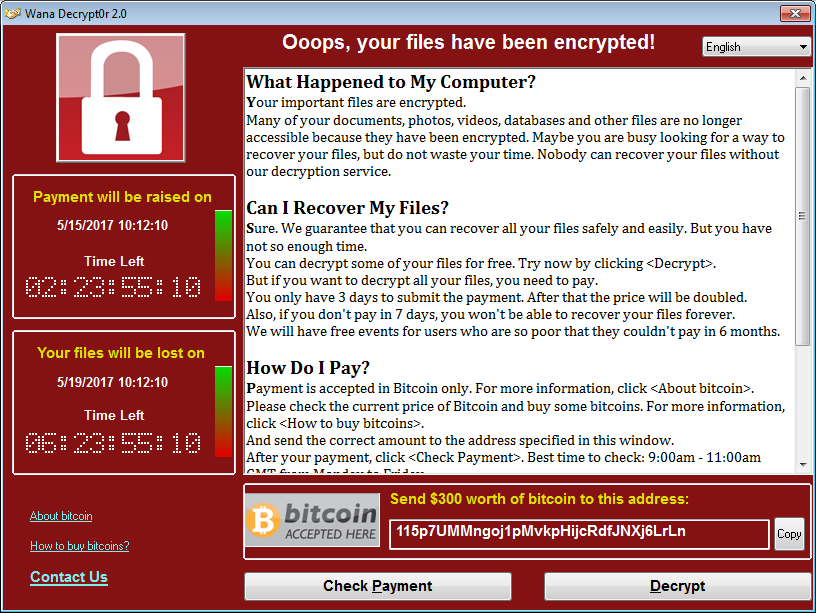 What Can I Do To Avoid Falling Victim to WannaCry?
You need to ensure that your operating system has been patched with Microsoft Security Bulletin MS17-010. If you run Windows Update on your system and install all of the critical updates, you will be fine.
Does Office 365 Protect Against WannaCry? (Updated May 15, 2017)
I posted a question in the Microsoft Tech Community asking if Office 365 has been updated to protect against WannaCry. I received a response from a reputable source that stated:
The attack does not directly affect the Office 365 service, but Microsoft has taken steps to prevent further spreading by pushing more strict EOP settings. As is usually the case, the attack targets outdated/unpatched versions of Windows, you can get more details from the relevant teams at MS:
Plus, there are features such as Zero Hour Auto Purge (ZAP) that can remove messages from user's mailboxes even after they are received:
More Information
Keep following us at cFocus Software as we provide you all of the details you need to stay on top of the latest information with Office 365 Government.