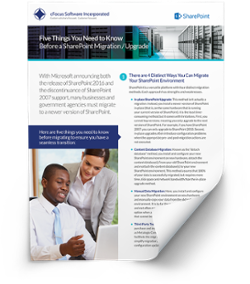 2016 is a big year for SharePoint. Microsoft released SharePoint 2016 and is discontinuing support for SharePoint 2007. If your staff uses an older or outdated version of SharePoint, now is the time to migrate or upgrade to a newer version. While a SharePoint migration can seem overwhelming, using a newer version will result in greater efficiency and overall cost savings for your organization.
cFocus Software's latest tip sheet explains 5 things you need to know before beginning a SharePoint migration or upgrade in order to set your organization on the right track to improving processes and increasing productivity:
There are four distinct ways to migrate your SharePoint environment
Customizations can be difficult to migrate
Data cleanup makes your migration easier
Effective communication and end-user training is key
SharePoint governance enforcement tools are essential
Click here to download the tip sheet!