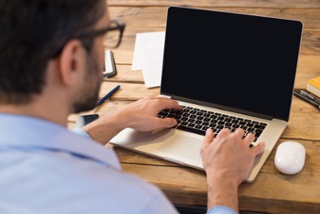 The hybrid features of SharePoint 2016 are a big step forward for organizations that want to use the cloud features of SharePoint Online while keeping documents on their on-premises servers. With these features, users can seamlessly view local and cloud resources together. Some of these features were available in earlier versions of the software, but SharePoint 2016 provides much better hybrid integration features.  This blog post describes the hybrid features of SharePoint 2016.
Setting up hybrid features
Setting the hybrid features up requires setting up Azure Active Directory Synchronization. Beyond that, the administrator can select which features to enable. Active Directory Federation Services are optional, but allows setting up single sign-on if used. The more features are enabled, the smoother the combination of on-premises and cloud services is to the user.
Not all users have to be "hybrid users." Those who need to work strictly with on-premises data can have non-hybrid accounts, and they can still interact smoothly with hybrid users.
A look at the features
App Launcher combines the tiles for Office 365 applications with SharePoint Server applications and custom tiles. All the functionality is available in one place.
SharePoint sets up Hybrid OneDrive for Business so that OneDrive links in SharePoint Server redirect to OneDrive for Business in Office 365. The user accesses OneDrive through the App Launcher, which provides the same experience for cloud and local servers. Using cloud storage helps to limit the demand on the amount of storage on the local server farm. Users can sync files to Hybrid OneDrive for Business and share them, and the files are accessible from Office 365 applications. Previously, it wasn't possible to link to the cloud OneDrive from SharePoint Server.
The hybrid extranet allows selective sharing of content with external users. A team can set up a collaboration space on SharePoint Online, which it can share with consultants or other outside collaborators. The process won't expose any resources the external users shouldn't see. This eliminates the need to email documents or share them using third-party services. The administrator can allow either all site users or only site owners to invite new users. The extranet logs the activities of external users for auditing.
The Cloud Search Service lets users search all available documents, both on SharePoint Server and on SharePoint Online, as a single space, with all results shown and ranked together. The user doesn't need to know where any given result is stored. Delve likewise works with all documents and profiles, both on Office 365 and locally stored.
Hybrid profiles combine users' activity on the on-premises and cloud portions of SharePoint, so that co-workers can keep track of them in a single view. The profile is maintained both on SharePoint Server and on Office 365. Clicking a link to a user's profile in SharePoint Server redirects to the SharePoint Online profile. Profile redirection is part of the Hybrid Team Sites feature, which combines all the sites that a user follows and makes the list available in the profile.
Organizations that benefit
The hybrid features can benefit two classes of organizations. Those who can benefit from cloud sharing and extranets, but have some data that has to stay on-premises, can set up the combination to meet their requirements. Accounts that need to operate strictly on the premises can be set up as non-hybrid, and they can interact smoothly with users who have hybrid accounts.
Hybrid features can also help businesses that want to make a full cloud migration. They can take a step-by-step approach to minimize disruption of their operations. The last step will be the full migration of data from SharePoint Server to SharePoint Online.
Either way, the hybrid path lets organizations use the strengths of on-premises and cloud services without having the feeling of operating in two different worlds.
More Information
About cFocus Software
Established in 2006, cFocus Software automates FedRAMP compliance and develops government chatbots for the Azure Government Cloud, Office 365, and SharePoint.
We are the exclusive vendors of ATO (Authority To Operate) as a Service™.
cFocus Software is Microsoft Gold certified, ISO 9001:2008 certified, and a certified participant in the Small Business Administration's 8(a) program.
Contact cFocus Software
Contact Form: https://cfocussoftware.com/contact-us/
Email: info@cfocussoftware.com
Website: https://cfocussoftware.com/
Phone: (301) 499-2650