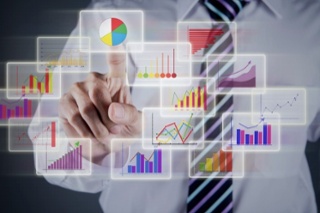 In my blog "Benefits of Using a Business Intelligence Solution," I explained Business Intelligence (BI) and discussed some of the benefits of using a Business Intelligence solution, such as SharePoint. But, did you know that SharePoint is just one of several Microsoft BI tools?
In this blog, I will highlight the benefits of integrating SharePoint with other tools in the Microsoft BI ecosystem and of some of SharePoint 2013's notable BI services.
Integrating SharePoint with other Microsoft BI Tools
Integrating SharePoint with Microsoft BI tools, such as Excel, Excel Services, PowerPivot and Power View, enhances the power of your business' data by allowing you to share the data created by these tools across your organization.
Information All In One Place
Wouldn't it be nice to have a centralized place to bring together all the great BI information you're gathering? Well, you can. SharePoint 2013's Business Intelligence Center site template allows users to create a BI site where they can store and share all their BI information.
Moreover, one of the most important aspects of BI is the ability to wield your data into insightful reports. PerformancePoint Services is a SharePoint add-on that enables you to create and use powerful reports, scorecards and dashboards. PerformancePoint Services also allows you to aggregate Microsoft Excel, PowerPivot and Power View reports and visualizations all in one place and organize them based on what is most important to you.
Microsoft Excel and Excel Services
Excel is the core Microsoft Business Intelligence tool. Through SharePoint 2013's Excel Services, you can share charts and figures created in Excel, as well as Excel spreadsheets within SharePoint.
PowerPivot and Power View
With the PowerPivot add-on to Microsoft Excel, you can aggregate large amounts of data from various sources into a single Excel workbook and quickly perform analysis and data modeling. Further, PowerPivot adds more functionality to Excel pivot tables, including the ability link entire tables in seconds. Then, when you add Power View to Excel, you expand the variety of ways you can visually represent and configure data in graphs, matrices, maps and charts.
By integrating SharePoint 2013 with other tools and services in the Microsoft BI ecosystem, you can manage, analyze and share your business' data, both efficiently and effectively. With a centralized view of the information and processes powered by these BI tools, you can make smarter, data-driven business decisions – an ability that will be invaluable to the success of your organization.