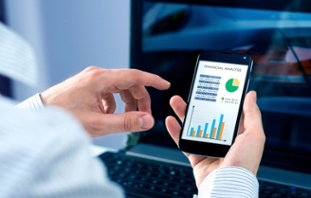 In my blog "Using SharePoint 2013 for Business Intelligence," I discussed the benefits of integrating SharePoint with other tools in the Microsoft Business Intelligence (BI) ecosystem as well as covered some of SharePoint 2013's notable BI services. In this blog, I will discuss SharePoint Online and another Microsoft BI tool – Power BI.
SharePoint Online, Office 365 and Power BI
SharePoint Online fully integrates with the main tools in the Microsoft BI ecosystem: Excel, PowerPivot and Power View. However, because SharePoint Online is in the Microsoft Cloud, you cannot customize or custom develop your own BI solutions for your business. But don't worry, that's where Power BI comes in. Power BI is Microsoft's cloud-based analytics product.
Better User Experience
Like the Business Intelligence Center on SharePoint 2013, Power BI integrates with all Microsoft BI tools and allows you to aggregate the data into one place and gives you the ability to create insights. Power BI is designed to allow you to do things faster and more efficiently compared to SharePoint 2013. With the Power BI interface and the tools inherently available within it, users can now create custom dashboards without being a software developer.
Flexible Data Options
While the visualizations and analysis you perform is in the cloud, Power BI can pull data from anywhere – the cloud, your local servers or other network computers. Together Power BI and SharePoint can integrate and push data to the cloud. You are also able to update data in the cloud and sync any changes to the data regardless of where the data resides.
Anywhere Access
The Microsoft Cloud gives your staff the ability to access SharePoint Online, Office 365 and Power BI from any location, on any device. Whether it is at home, the office or a client site, you are able to access and edit your data as well as perform analysis and create visualizations on the go.
Powerful Search For Powerful Data
One tool within Power BI that has revolutionized reporting is the natural language query tools, including Q&A. Now you can ask questions using natural language instead of file names or tags to find the answers. Q&A also allows you to choose how you would like the information to be presented. For example, you can ask to see your fourth quarter earnings by state in a bar graph or you can ask for it to be displayed as a linear graph. And, similar to Google, Q&A suggests other queries that are relevant to your current search.
By combining the sharing power of SharePoint Online and the BI capabilities of Power BI, managing, analyzing and sharing your BI data will be more efficient – giving you the information you need, when and where you need it, to make informed decisions for your business.
More Information
About cFocus Software
Established in 2006, cFocus Software automates FedRAMP compliance and develops government chatbots for the Azure Government Cloud, Office 365, and SharePoint.
We are the exclusive vendors of ATO (Authority To Operate) as a Service™.
cFocus Software is Microsoft Gold certified, ISO 9001:2008 certified, and a certified participant in the Small Business Administration's 8(a) program.
Contact cFocus Software
Contact Form: https://cfocussoftware.com/contact-us/
Email: info@cfocussoftware.com
Website: https://cfocussoftware.com/
Phone: (301) 499-2650