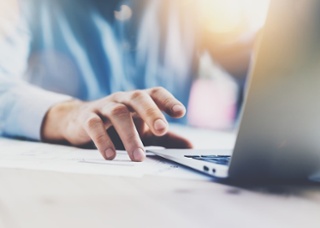 People are a business' greatest asset and biggest security risk. All it takes is one person in the company to fall victim to a hacker posing as a Verizon worker and your entire business network can be exposed to a security threat. Therefore, it is very important to understand and use cyber security measures that protect your network and data from both outside threats and inside threats introduced by employees and business associates. Below, I present three cyber security tips that you should know about to 'people-proof' your network and data from cyber security threats.
Monitor Your Database Activity
Tech Target's Adrian Lance explains that Database Activity Monitoring (DAM) tools "monitor, capture and record database events in near-real time and provide alerts about policy violations."
DAM tools are able to perceive a threat, but not by monitoring the data itself. Rather, the threat is perceived by monitoring the ways the data is accessed and observing how the information moves across the infrastructure. DAM monitors activity that is harmless and matches it against activity that is harmful. By monitoring both appropriate and inappropriate movements within the database itself, DAM is able to perceive a threat right away.
Protect Your Entire Infrastructure
Most organizations use a number of different platforms to store and analyze data. For example, you may have an accounting application that uses a database system, a human resources application that uses a separate database system, etc. Network security specialist Steve Hunt, explained to Credit Union Times  that "In order to prevent a serious data breach, every database needs to be identified, inventoried, continuously monitored and retired if not in use."
This is good advice for small businesses to follow. As your business grows and evolves, it is also important to tie up loose ends and properly decommission old databases. Rogue and zombie databases provide a gateway for hackers to enter existing networks.
Do a Full Analysis After a Breach
In the event that your network is successfully breached, you should get a full network forensic analysis done. Hackers can breach your network and remain undetected for months, installing crippling malware programs that you won't notice until it is too late. In such a situation, a full assessment of the breach needs to occur so that all harmful software is removed. More importantly, a forensic analysis should be conducted so that IT fully understands how the hackers gained access. This is the only way to ensure that the breach will not occur again. Forensic analysis helps to identify weaknesses in your data infrastructure. Once detected, these weaknesses can be sealed or removed.
More Information
About cFocus Software
Established in 2006, cFocus Software automates FedRAMP compliance and develops government chatbots for the Azure Government Cloud, Office 365, and SharePoint.
We are the exclusive vendors of ATO (Authority To Operate) as a Service™.
cFocus Software is Microsoft Gold certified, ISO 9001:2008 certified, and a certified participant in the Small Business Administration's 8(a) program.
Contact cFocus Software
Contact Form: https://cfocussoftware.com/contact-us/
Email: info@cfocussoftware.com
Website: https://cfocussoftware.com/
Phone: (301) 499-2650